Harvest Moon: Light of Hope Wiki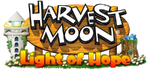 Welcome to the Harvest Moon: Light of Hope Wiki
Welcome to the Harvest Moon: Light of Hope Wiki
The Harvest Moon: Light of Hope reference written and maintained by the players.
Please feel free to contribute by creating new articles or expanding on existing ones.
Spotlight: Harvest Moon: Light of Hope
Harvest Moon: Light of Hope is an agricultural simulation role-playing video game.
In Harvest Moon: Light of Hope, players begin the game as they set out looking for a fresh start and new surroundings. During their voyage, their ship is hit by a monsoon and goes down. As they drift into a small harbor town, now in a shambles from the storm, it will be up to the player to help rebuild the town and save the lighthouse... but it won't be easy! Nevertheless, with some hard work growing crops, tending livestock, and gathering materials for repairs, players will be able to make new friends, start a family, revive the lighthouse, and save the town!
Harvest Moon: Light of Hope will mark the franchise's first installment on PC and Nintendo Switch.
Wiki Community
We are currently maintaining 242 pages (12 articles)!
Recent changes | New pages | Missing pages
See how you can help contribute to Harvest Moon: Light of Hope Wiki! Remember to maintain a standard for grammar and punctuation in your contributions, please.
Register an account to keep track of your contributions.